If you know anyone who has tried pole fitness, the chances are they will have raved to you about how you should try it and how amazing it made them feel, both physically and mentally. 
The pole community is incredibly supportive and attracts people from all walks of life, making people feel empowered, united and proud of their shared passion. This is where we take our name.
Constellations Fitness is your space. A space for you all to come and feel all sparkly! Here you can find a stronger, bendier and braver you, make friends and make progress, get active and get creative. 
At Constellations Fitness we celebrate each other's achievements and learn to respect our bodies for what they can do, rather than just how they look. While we burn calories, build muscles and set goals, we have fun! Perhaps most importantly, we provide an escape from the grind of daily life. This 'meditation in motion' can be a fantastic way of managing mental health.
Everyone is welcome, regardless of their age, shape or size. So whether you're a fitness enthusiast or a mum needing some 'me time', you need a little confidence boost or you just love hanging out upside down. Constellations Fitness is the place for you to shine.
1. a group of stars forming a recognisable pattern that is traditionally named after its apparent form or identified with a mythological figure.
2. a group of associated or similar people or things.
Are you looking for a space to teach your own classes? Maybe Dance, Zumba, Boxercise, or Meditation? 
We have daytime and Sunday slots available for hire – get in touch below to find out more!
Hello! I'm Sophie. I grew up in the local area and discovered pole on a night out in around 2008. After dipping in and out of classes over the years to come, I settled in Bristol in 2015 and started lessons at the brilliant Pink Kitten Dance School. Soon I had an unlimited membership and wished I could pole and hoop all day every day!
I then moved to Liverpool, began teaching pole at local studios and qualified to instruct beginner, intermediate, advanced, kids and stretch classes. I've since qualified to teach aerial hoop too.
Constellations Fitness came about because I wanted to share the joy that pole fitness has brought to my own life with the people of the Glastonbury area. There are so many things to love about pole. What may begin as curiosity or a simple desire to keep fit and healthy can result in new friendships, improved mental health, a variety of positive physical outcomes and possibly a slight obsession! Its versatility means there's always something to please everyone. Be it spinning or static, gymnastics led or dance based, sexy or contemporary, recreational or competitive. Whatever you're drawn to, the aim is to always come away feeling sparkly!
I love the fact that the learning is endless and that everyone is on their own journey of progress. There is always something new to learn. Seeing the happiness on someone's face when they achieve a move that they've been working on for a while and hearing the class erupt in a big cheer for them is the best feeling ever!
Handstands and strength moves are my favourite, along with flowy, twiddly heels sequences.
I can't wait to see you in class! x
Kasha has been attending Pole Classes since June 2021 when Constellations Fitness first opened its doors and has been hooked ever since. Kasha completed the Xpert Level 1-2 course in May 2022 and started off teaching the Level 1 class. She enjoys all aspects of pole dancing but is particularly fond of choreo classes and loves a bit of floorwork, which she happens to be very good at! As a result, she now teaches the popular Intro to Pole Dance class and you'll often find her leading the Pole Choreo block too. Kasha loves the diversity of women and men within the pole community and has a newfound confidence and love for her body. After performing in our Student showcases in 2022, Kasha took her performance skills to the Peppermint 1 showcase in Skegness and I think it's safe to say we'll be seeing her on some other pole stages again very soon!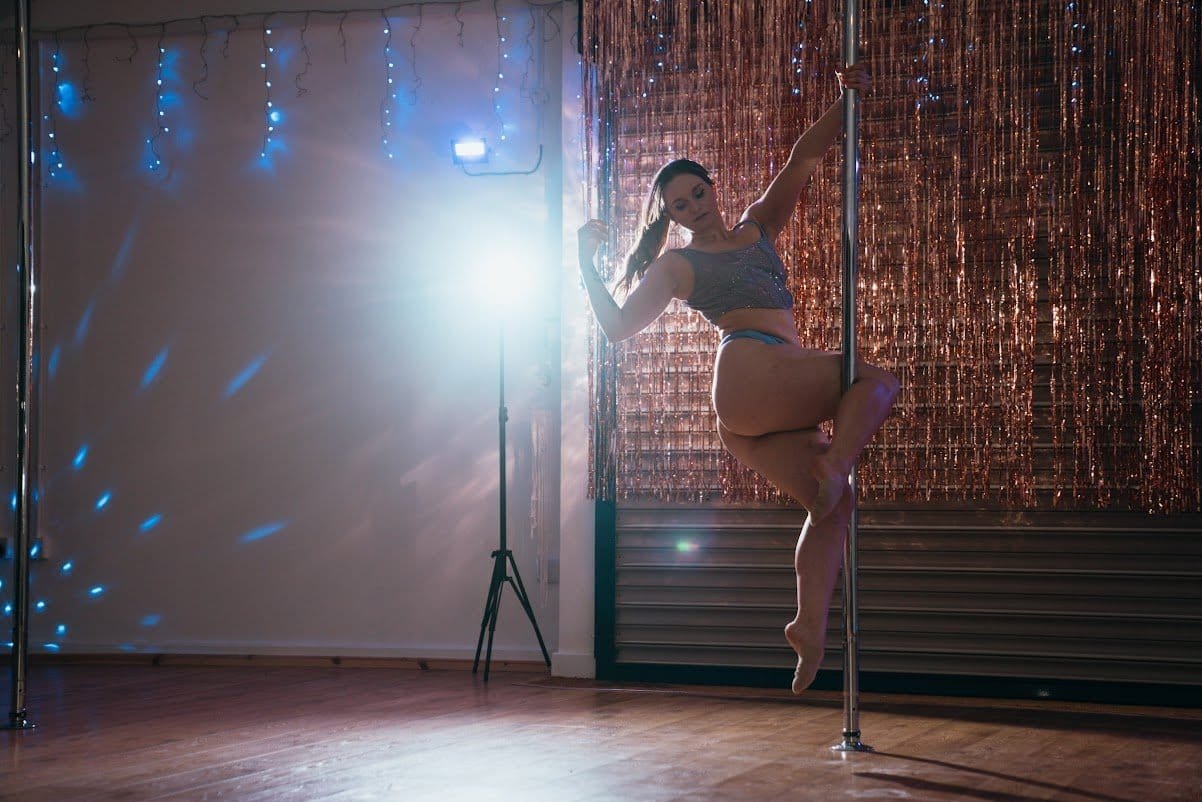 Kate became an instructor in September 2022. Instructing started as a way for her to spend more time Pole dancing, but lead to her sharing her passion for pole dance with others and loving seeing the energy they all create when they flow together. She values each student's individual movement journey and hopes to create a space in her lessons where they can find movement that feels natural to themselves. Her favourite feeling is floating through spaces and connecting with herself through music, movement, shapes and creation, which is apparent in the beautiful gooey spin routines she creates. You'll find her teaching on Wednesdays in Level 2 Pole Fitness and her (very popular!) Lyrical Pole class. Her pole dance inspirations are Sammy Picone, Cami Arboles, Toni Walker and all the Constellations Instructors.
Sam began her pole journey over 10 years ago and has been an addict since day one. After a recent 3 year hiatus due to work commitments, she couldn't wait to get back into things in 2021 and has been at Constellations ever since. Her passion for pole comes from it being so inclusive to all shapes, sizes and fitness levels and the wonderful and supportive pole community.  Her favourite part of teaching is helping a student nail a pole goal. She loves helping students get to the bottom of their nemesis moves by breaking things down and tweaking minor points to get the final result and students always feel very encouraged and supported by her approach. Her favourite moves are fang, butterfly and teddy, but generally anything that can utilise the thighs! She completed her intermediate Spin City Certification in May 2022 and is working towards other certifications shortly.  Sam is also a bit of a heels queen and loves choreography. She has become known as "Sassy Sam" as her choreo routines tend to have a pop'y and edgy flare which stems from her love of street dance. She's also a bit of a K-pop fan which may well have an influence on some upcoming performances!
Faye's sister started teaching pole over 15yrs ago, and Faye was was one of her first students at Affinity Pole Fitness in Kent. Due to her sister becoming pregnant, Faye demoed for her students and went onto teach pole dancing herself.  It didn't take Faye long to fall in love with pole, in particular the art of stripper style dance and wavy leg tricks, which she performs hypnotically! Pole and her pole family helped her through some trying times, in particular the diagnosis of rheumatoid arthritis and her husband being deployed with the military. But due to moving and having her children, Faye stopped pole for 6yrs. However, upon moving to Somerset she found Constellations Fitness and thanks to her new pole gang, her passion for pole has been reignited and she is thrilled to now be teaching as part of the Constellations family. Faye loves making women feel good about themselves and helping them find their self-confidence and if you've ever met her you'll know that's what she does best. You'll find her teaching on Wednesday daytimes (term time) and our Thursday evening 'High Heels' class.